Les Gets - Accessible Mountain Experiences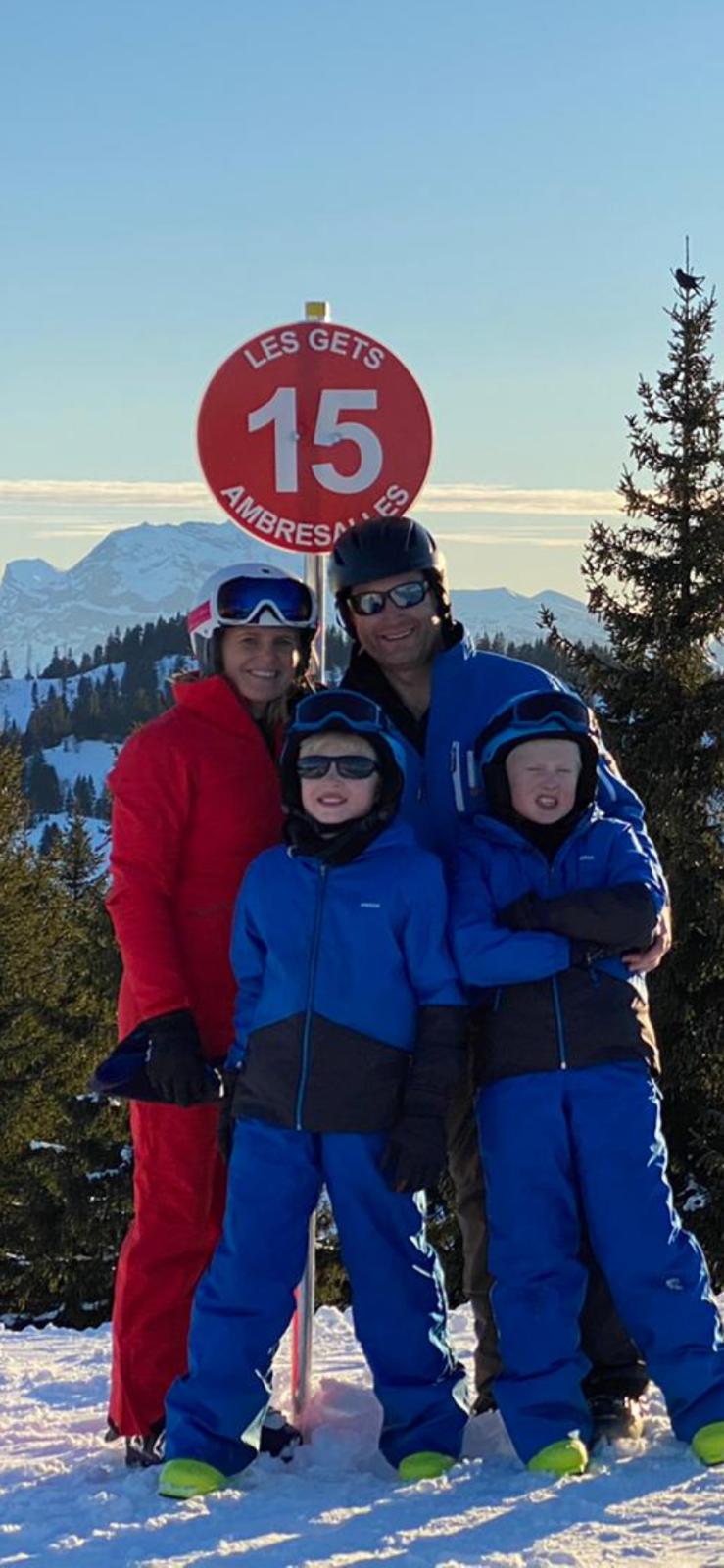 An Inclusive, Accessible and Well-being mountain holiday! All taking place in the beautiful Haute Savoie village of Les Gets situated in the French region known to many as the 'Portes du Soleil'.
Ski 2 Freedom Foundation and now Mountains 4 All are very happy to provide advice, support and information to help you with the perfect family ski or summer holiday. For just two or with friends it is also a perfect multi-generational destination and with the golf course in the summer and beautiful walks it really is a must-go-to resort!
Easy distance from Geneva and all hotels within a step of the ski slopes, ski school or ski lifts - many of which operate in the summer!
Some examples of how our work has helped people enjoy the therapeutic and life-changing experiences that Les Gets can offer:
Family ski holiday for two young boys from Ireland who were born with Ocular Albinism [Kelly Gallagher, one of our Patrons, is an inspiration and hero to the family]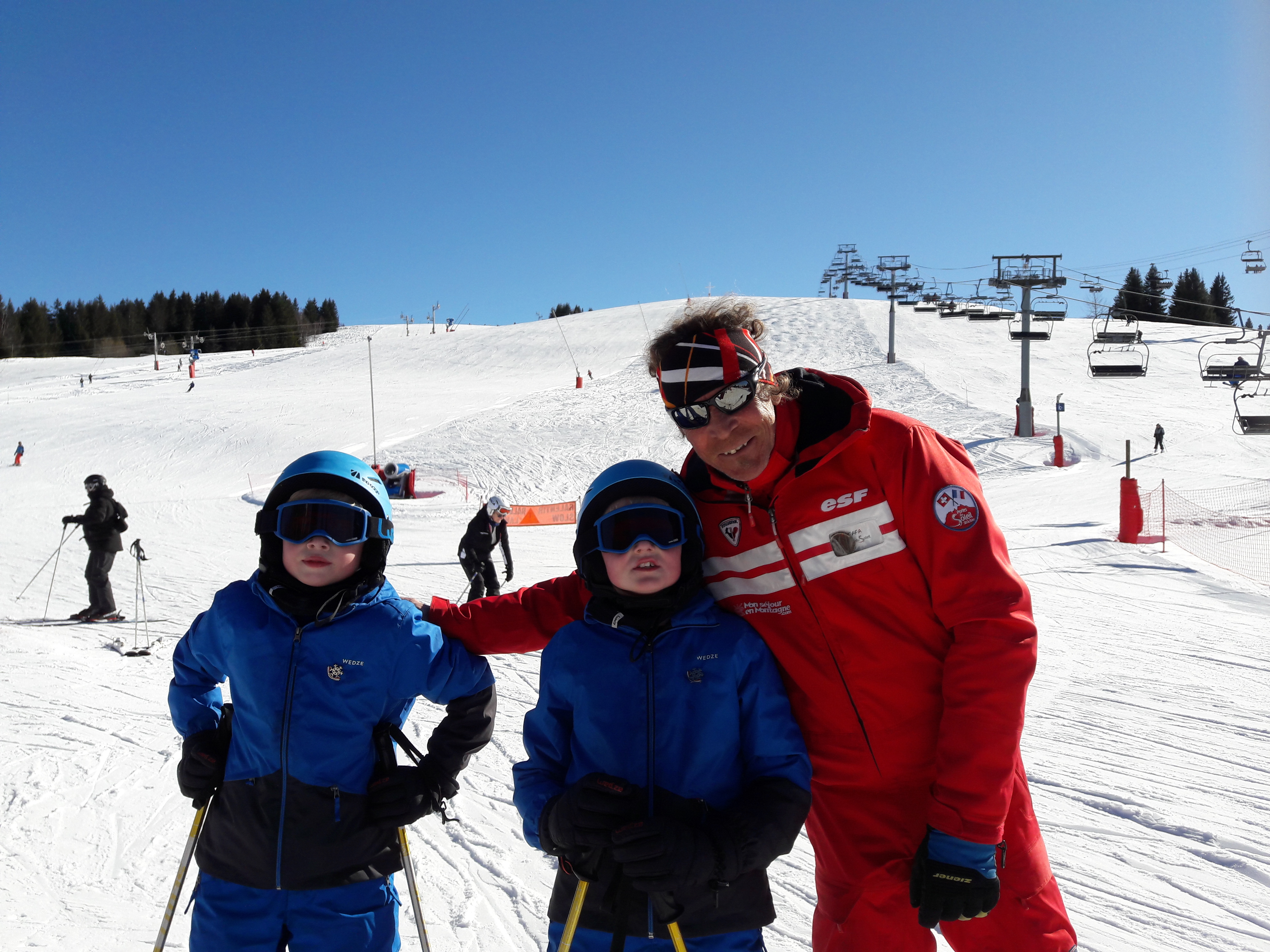 Family ski holiday for Blair who was born with Niemann Pick C Disease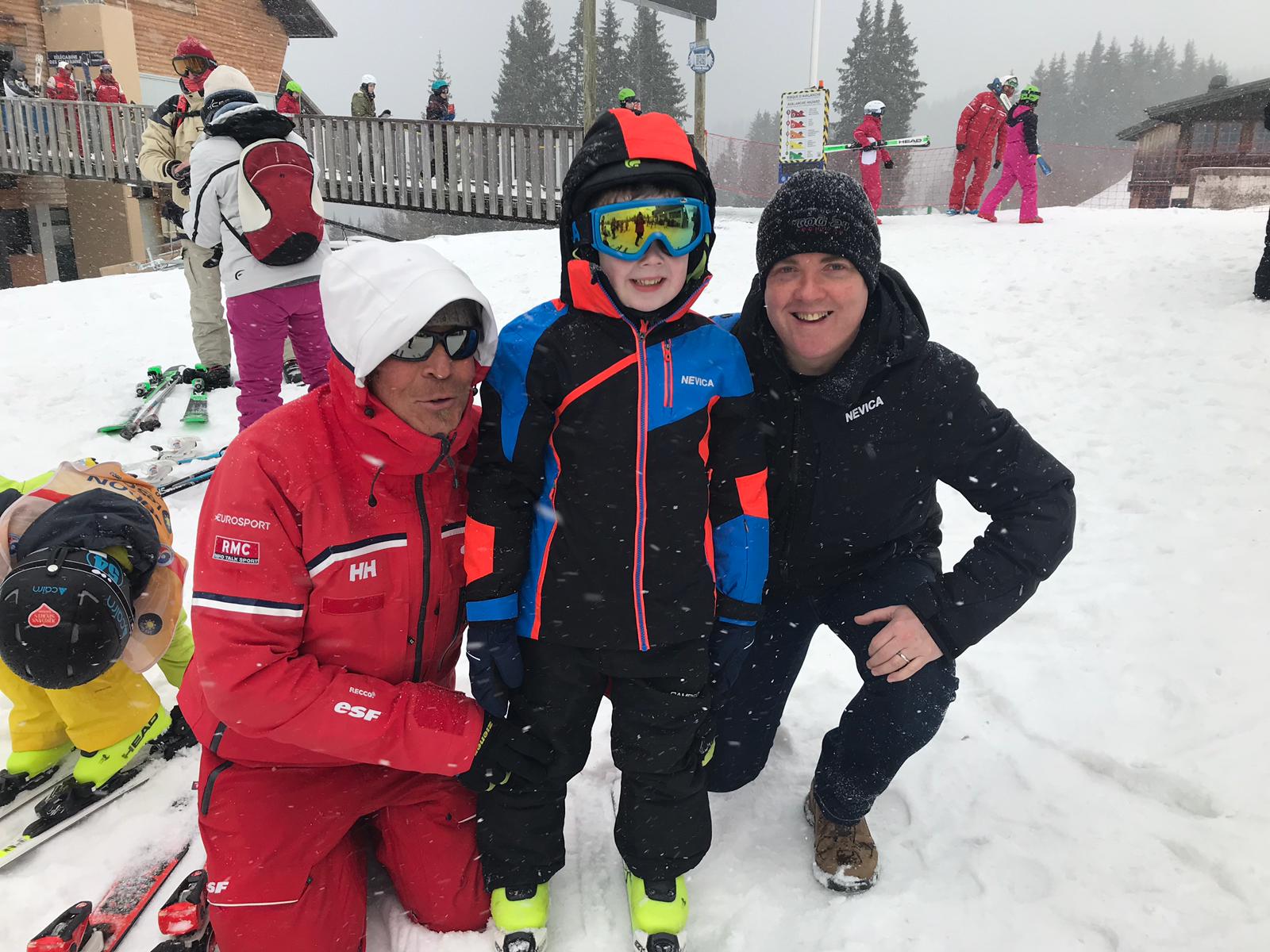 Blair meeting his Piu Piu hero!
Accessible family ski holiday means a dream comes true for two great young boys Calistus and Caleb who both have Cerebral Palsy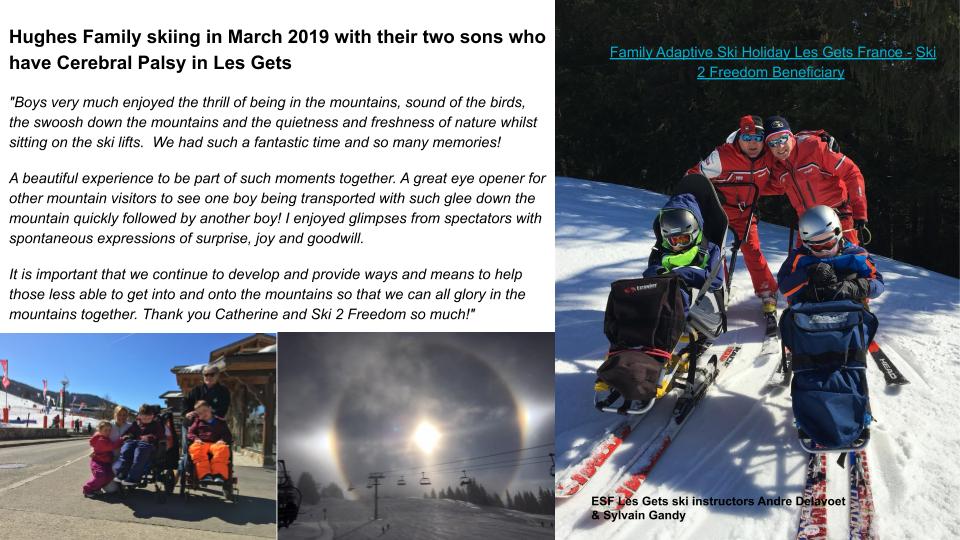 1286-m-les-gets-cerebral-palsy
Adaptive skiing became a really inclusive family holiday when Nick Ablewhite learnt how to guide the Tessier dual-ski with his young son Ismail, who has Cerebral Palsy, around the ski slopes of Les Gets under the tuition of the ESF Les Gets.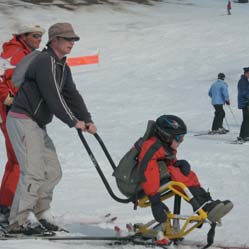 Skiing with Down's Syndrome and having a very memorable family holiday with assisted ski instruction was a magical experience for young Adam from Ireland. They stayed at the Hotel Marmotte and ESF Les Gets's ski instructor Sylvain was his teacher.
Ski 2 Freedom Foundation first discovered the amazing adaptive and assisted skiing available in Les Gets thanks to a family with a young son who faced a number of life-changing challenges in his life.
His mother told Catherine Cosby We were all skiers but when Hugo was born and in the subsequent years due the challenges he faced, we felt that it would be unfair to go and not to include him in our annual ski trip. A chance meeting with a ski instructor from ESF Les Gets changed our lives for ever. Carole and Hugo built up an incredible bond and within a couple of years Hugo had achieved his goal of skiing the Swiss Wall with his brothers!
March 2019 A day in the life of Ski 2 Freedom and Mountains 4 All's Catherine Cosby - being on hand to ensure that a beneficiary's special holiday is all they dream off means that Catherine is often visiting a resort to check up and take care of families. This occasion was extra special and exactly why we know that all our donations go towards making families feel extra cared for and that there is a helping hand when things don't quite work out as planned.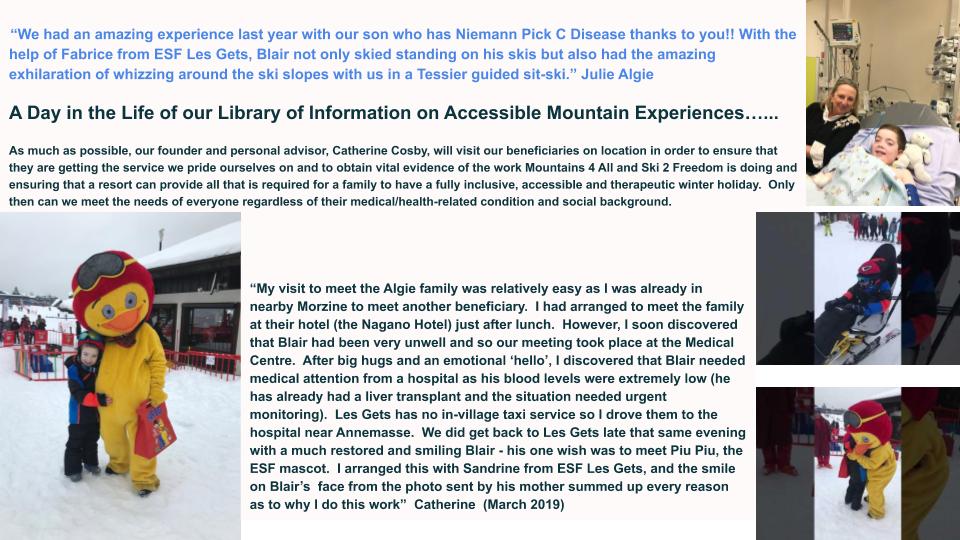 Two particularly helpful companies supporting us are Pure Mountain Holidays and Peak Retreats
The hotel Marmotte is also a very special place to stay!