COVID-19 has impacted on all our lives. However, for families with a child or loved one who has a life-changing health or medical condition, those whose social status has made life particularly difficult, for people who suffered a bereavement, and especially those living in the towns and cities to be able to access freedom in the mountain environment must be a positive thought. Travel is still an uncertain element but there is no reason why one can't make a wish, a trip to the mountains planned, feel the anticipation of what lies ahead with winter... if we all wish hard enough, our dreams can come true!!
We are delighted to welcome you to the empowering magic and enlightenment of the mountains in winter!
What is the Ski 2 Freedom Foundation?
An advocate and unique gateway to accessible snow sports and winter experiences for hope, health and mental well-being.
We are a small, dynamic UK charity registered in 2013 - having begun our work as a not-for-profit in 2007. The charity was created to be both an inspiration for winter-based activities and experiences, to those with life-changing needs or serious health conditions.
The concept was the brainchild, and remains the passion, of Catherine Cosby, whose daughter Alexandra was born with a rare neurological disorder (Rett Syndrome). Catherine discovered a renewed strength and mental-well-being from respite trips to the Alps in winter. She believes passionately that these same healing and spiritual qualities of the mountains could and should be shared with other families to help bring about a fundamental and emotional change in their lives.
What is the essence of Ski 2 Freedom?
Empathy, understanding and innovation to give familis and individual's reassurance, guidance and a helping hand towards a more enriched and inclusive life.
For 1000's of years the Alpine regions have been well-known for their winter therapeutic and health-restoring qualities. Indeed, visitors first came to the Swiss mountains over a 150 years ago for their health during the summer months. Encouraged by the fresh air, good food, healthy activities and wonderful family run hotels, having discovered the delights of skiing, the British were the first to really help open up these therapeutic destinations for winter fun!
What makes Ski 2 Freedom unique?
Over 20 years of Personal Experience, Knowledge and Valued Friendships which connect people to the best mountain winter activity
I cannot thank you enough for all your kindness and understanding. It is like a breath of fresh air when I explain about the needs of my daughter and the other person totally gets it. Thanks to you, we are going to go skiing for the first time as a family.
Our strength is in our deep, personal understanding and empathy of how to help people find the right therapeutic experiences for them. At the heart of our work is access to an acclaimed specialist Resource (individually and conscientiously collected personally over the past 20 years) which, with an extensive network of snow sport providers and mountain operators, as well as with the help of our partner charity, Swiss based Mountains 4 All, is used to provide a personal and tailor-made service.
"Go confidently in the direction of your dreams! Live the life you've imagined"
Henry David Thoreau
What We do
We love to help with inspiring ideas and the reassurance needed to find the most suitable adaptive or assisted ski lesson, guide or sit-ski equipment, ideal ski resort, most appropriate place to stay – all our work is carried out with the empathy, integrity and personal touch that has become our bench-mark.
We want to meet people's aspirations and help make dreams come true by:
Passing on our inspiring thoughts - Giving ideas as to the most appropriate adaptive winter sport or well-being experience using the Library of Information on Accessible Mountain Activities and Experiences that provides you with a personal service tailor-made to meet your specific needs and requirements.

Making small individual grants towards the provision of specialist ski instruction or other winter sport assistance such as lessons or guided sit-ski trips as and when appropriate.

Helping with the provision of adaptive ski and winter sport equipment – there is currently insufficient material to meet demand.
All we ask in return is that if you can, in some small way, help in keeping our garden of inspriation growing then we can all help each other to achieve a lasting memory in the mountains!
All donations are used exclusively in helping everyone to feel a sense of empowerment and provide enlightenment and hope.
Who We Help
Those we have helped so far range in age from 2 to 90 years old, all with a very diverse range of medical, health and social needs including, sadly, many with life-limiting conditions. This is about making dreams come true and providing lasting memories for family and friends. Giving anyone who cares for a relative the opportunity of getting the respite and normality they so richly deserve - especially young people.
We have supported families, groups, members of the Armed Forces, main-stream and special needs schools, ski clubs, disadvantaged young people and other members of society so that all generations - facing challenges in their lives gain self-confidence, self-esteem, life-skills, respite, social inclusion, hope, a better physical and mental health, lasting memories and a powerful sense of personal achievement with family or friends!
Ski 2 Freedom has helped enrich the lives of over 7,000 children, young people and adults affected in some way by a life-changing or life-limiting condition, social inequality, social unrest or conflict (physical, special-needs, mental, trauma, neurological, cognitive, degenerative, genetic, cancer, sensory and auditive functions, or a disability). We enable our beneficiaries to gain improved mental and physical health, respite, social inclusion, hope, life-skills and lasting precious memories with family and friends.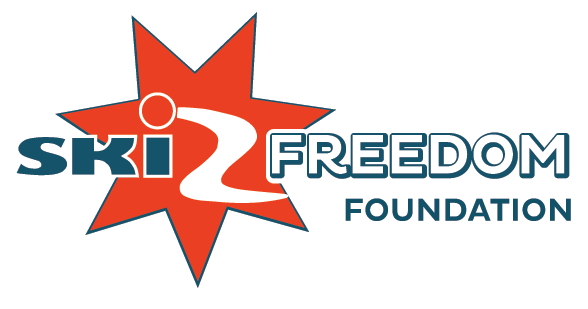 Ski 2 Freedom Foundation is a UK charity founded in 2007: A helping hand for children and adults affected by life-limiting, life-changing conditions or trauma to find empowerment through adaptive snow-sports and winter activities inclusive and accessible magic moments of togetherness with family or friends away from the challenges of day-to-day life.
UK Charity Registration No: 1151307 (England & Wales) - "The Magic of Winter" fundraising campaign launched December 2019 to help make dreams come true! www.justgiving.com/campaign/TheMagicofWinter
"I just wanted to let you know my dreams have come true and I wanted to thank you as soon as I could... I've already cried a few times with my instructor from ESF Les 2 Alpes Loic!!!!!!"


- Susan (Addison's Disease) Feb 2014

"We cannot thank Ski 2 Freedom enough - it's such a wonderful thing for Barnaby to be able to do and, perhaps more importantly, it makes him so much more part of the skiing holiday - on an equal footing with his sister, Olivia, and the other family we ski with. Thank you also to Simon, Lionel and Agathe at ESF La Rosiere who were all so accommodating and to the ski lift operators at Sainte Foy!"
"I just wanted to email you to thank you so, so much for putting us in touch with the wonderful Reini of Active Motion in Grindelwald. We've had the most amazing week skiing and Eli has loved it. Thank you so much, we are definitely going to do this again next year so I'll be in touch again!"


- Mother of daughter with Duchenne Muscular Dystrophy 2014

"Thank you so much for all your help and sorting this out for me. This holiday has been a massive achievement for me!"
"People should believe that their children can do anything. My mum wasn't sure if I would walk, but she believed in me, and so did my dad and now I can ski!!"