The Ski 2 Freedom Foundation now sits under Mountains 4 All, which is a Swiss registered non-profit organisation. In order to maximise positive impact, Mountains 4 All was created to cover a wider remit for mountain-based activities. The Ski 2 Freedom Foundation remains a UK registered charity and continues to offer the benevolent services it always has done, now from within the umbrella of Mountains 4 All.
Welcome to the empowering magic of the mountains and allow us to be your guide on a journey of discovery with accessible and inclusive life-changing experiences and activities!
For over 200 years the Alpine regions have been well-known for their therapeutic and health-restoring qualities. So if you are looking for inspiration and the confidence to join loved-ones, family or friends – winter, spring, summer or autumn, then Mountains 4 All is here to help you with something truly memorable.
Life changes, expands and grows for us all and so does the work of Ski 2 Freedom, begun by Catherine Cosby back in 2007, which is why we share this one platform with our new partner, Mountains 4 All, the 'umbrella' non-profit NGO helping us in breaking down barriers to enable everyone to enjoy the life-changing benefits and spiritualism of the mountains.
Mountains 4 All is a new Swiss registered non-profit promoting and supporting the diversity of accessible and inclusive mountain experiences and providing advice and reassurance in meeting the specific needs and requirements of anyone whose health or general well-being is affected by a life-changing, life-challenging or limiting condition (physical, cognitive, degenerative, genetic, sensory, audio or mental), so they can participate in sporting and leisure activities, gain self-confidence, self-esteem and positivity, new equilibrium, a renewed spirit for life and empowerment which improves quality of life and benefit to their condition and those around them through its comprehensive Library of Information
"Go confidently in the direction of your dreams! Live the life you've imagined"
Henry David Thoreau
What We do
Help to inspire and guide you through every aspect of your journey towards meeting your aspirations and dreams for a more fulfilled life by embracing the therapeutic experiences to be found in the Alps and Mountains.
Provide a tailor-made and personal support and advice service with our Portfolio of Accessible & Adaptive Mountain Experiences and Activities - Where to go, where to stay and which activity is best suited to a person's health or medical situation
Where the best instructor/guide and equipment is to be found
Where to stay and whether there is suitable adapted accommodation
Connect people with the best mountain experiences – allow you to find calm, natural beauty, well-ness and a sense of peace. Local culture, heritage, food, sporting and leisure activities…
Provision of personal support and help if required
Provision of information and access for breakthrough technological developments
Provision of information and support for educational projects in adaptive sport and social tourism
Work in partnership with tourist offices, hotels, travel companies, experience providers to help with diversification of businesses to ensure that Inclusive, Accessible & Health - - Tourism is available for everyone in the mountain and alpine regions
We believe that no other organisation can offer such empathetic and detailed information that caters for the needs of people affected by such a wide range of physical, social and emotional conditions or has the specialist knowledge required to meet your specific needs. There is little we do not have information on nor places that, in Europe especially, that we do not know or have visited – Catherine has, on behalf of our work, travelled the distance to the moon…. She is just on her way back! (384,000 kms)
Who We Help
Family, friends, individuals, young carers, anyone affected by a life-changing medical or health condition including work-related stress, and mental health issues.
Members of the Armed Forces – both serving and veterans as well as those of whom have a child or dependent affected by a medical or health related condition.
Schools and Universities to be more inclusive when undertaking mountain activity events
Support workers and their clients wanting to find alternative therapy or experiences
Rehabilitation Units – both Military and Civilian
Volunteers wishing to donate time and skills to help others realise their dream
Up until December 2019, first Ski 2 Freedom and now Mountains 4 All has helped over 1500 individual people access the mountains from across the globe (in total with accompanying family and friends this is in the region of nearly 8000 who have directly benefited from this work). Antarctica remains the only Continent not connected…..yet and only a few countries in Africa, the Pacific and South America are yet to be on the radar!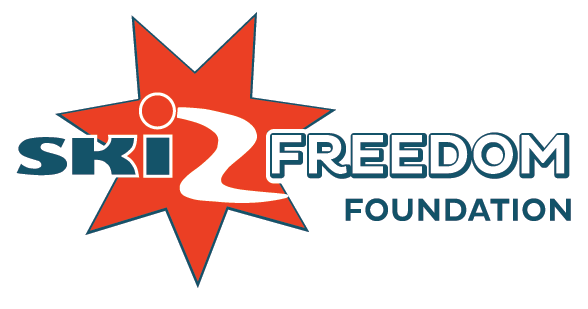 Ski 2 Freedom Foundation is a UK charity founded in 2007: A helping hand for children and adults affected by life-limiting, life-changing conditions or trauma to find empowerment through adaptive snow-sports and winter activities – inclusive & accessible magic moments of togetherness with family or friends away from the challenges of day-to-day life.
UK Charity Registration No: 1151307 (England & Wales) - 'The Magic of Winter' fundraising campaign launched December 2019 to help make dreams come true! www.justgiving.com/campaign/TheMagicofWinter
"I just wanted to let you know my dreams have come true and I wanted to thank you as soon as I could... I've already cried a few times with my instructor from ESF Les 2 Alpes Loic!!!!!!"


- Susan (Addison's Disease) Feb 2014

"We cannot thank Ski 2 Freedom enough - it's such a wonderful thing for Barnaby to be able to do and, perhaps more importantly, it makes him so much more part of the skiing holiday - on an equal footing with his sister, Olivia, and the other family we ski with. Thank you also to Simon, Lionel and Agathe at ESF La Rosiere who were all so accommodating and to the ski lift operators at Sainte Foy!"
"I just wanted to email you to thank you so, so much for putting us in touch with the wonderful Reini of Active Motion in Grindelwald. We've had the most amazing week skiing and Eli has loved it. Thank you so much, we are definitely going to do this again next year so I'll be in touch again!"


- Mother of daughter with Duchenne Muscular Dystrophy 2014

"Thank you so much for all your help and sorting this out for me. This holiday has been a massive achievement for me!"
"People should believe that their children can do anything. My mum wasn't sure if I would walk, but she believed in me, and so did my dad and now I can ski!!"
s