Skiing with Cerebral Palsy in the French Alps
Mia and her family find laughter and excitement on their journey to a truly inclusive adaptive ski holiday in the French Alps thanks to three dedicated disability ski instructors from the ESF. The first contact that Ski 2 Freedom had with Mia and her family was back in October 2010*"*Hi, we are hoping to go on a family holiday next season to Les Arcs 1950. Our 8yr old daughter has cerebral palsy – she is v keen to ski – she is in a wheelchair and has restricted use of her arms. I think she would need a ski with a seat and someone holding her but would like it if she could be doing something with her arms such as helping with direction of the skis. Could you let me know if there is anything like this at 1950 and if so who I can get in touch with about it?" This is exactly why the charity Ski 2 Freedom was started to provide comprehensive information and advice on ski and snow-sport activities; so Catherine Cosby, its founder, was able discuss with the family exactly what was required and put them in touch with ESF Arc 2000 and its head of adaptive and disability skiing, Alexis Brun.  Another very competent and fun loving instructor was allocated to Mia and as this feedback illustrates an amazingly fun and exciting time was had by everyone – finally giving the family a chance to ski inclusively and most importantly for Mia to be able to be share this with her sisters!  But would Mia be racing down the French Alps again next winter? The answer to that was a definite yes!  In fact as you will see Mia is well on her way to becoming a real aficionada of the skiing world!**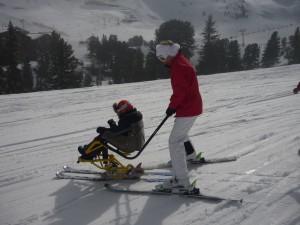 Disabled Skiing in Belle Plagne** was the choice for the next adaptive ski holiday in March 2012 and once again Ski 2 Freedom was able to help with information on the disabled skiing side of the holiday.  Part of the Paradiski area, the resort offers fabulous skiing for all levels including excellent skiing for all disabilities via the ESF Belle Plagne – with over 25 years of experience with adaptive skiing in Belle Plagne) including a ski instructor of international fame, Lionel Brun one of France's much decorated Paralympic medalist. The resort of Belle Plagne was in fact where Catherine first saw a Tessier sit-ski and the idea formulated for what was to become Ski 2 Freedom so the village and adaptive ski instructors from there hold a special place in her heart.  Ludivine from ESF Belle Plagne was Mia's adaptive ski instructor using the Tessier dual-ski pilot – this enabled the family to ski together, Mia's sisters continuing with their own ski school lessons.  It seems that for Mia speed and excitement are very much a part of her enjoyment!
Mia's mother guiding in Belle Plagne Mia's mother was, from time to time, given instruction on using the dual-ski with Mia and this is an activity she is keen to master so that the family can become much more independent on the ski slopes as time progresses.  For those interested there are a number of ski resorts that offer this type of training. On this trip the family stayed in an apartment using Smitten by Snow (the family use Mountain Beds to source accommodation and then confirm with Ski 2 Freedom as to its suitability)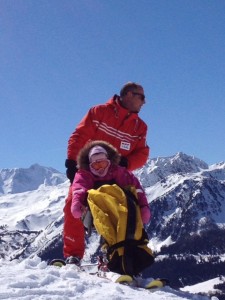 Mia and Lionel from ESF La Rosiere Disabled Skiing in La Rosiere was the next ski resort that the family decided to try in March 2013.  Once again Mountain Beds helped with finding somewhere to stay and Ski 2 Freedom advised on the adaptive ski instruction.  La Rosiere is extremely fortunate in having a group of fantastic adaptive and disabled ski instructors from ESF La Rosiere, whose Director Simon Atkinson is also a fully qualified ski instructor for all types of disabilities and special needs). Mia's mother told Ski 2 Freedom *"*We had a wonderful time in La Rosiere (despite the weather!)   Feedback from Mia's mother on disabled skiing in La Rosiere Adaptive and Disabled Skiing:  Mia had the most amazing instructor called Lionel from ESF La Rosiere who was very experienced and flew her around the mountain (and over some jumps much to her parents horror!! – but totally reassured afterwards by both Mia's shrieks of laughter and excitement). She had a ball and La Rosiere was perfectly set up for the handiski. The children had a great ski instructor and loved the skiing. They learnt so much there. For the adults it was lovely as there is a bit of everything, though it is quite limiting. Wheelchair Accessible Accommodation:  We stayed in a four bedroom apt in Les Cimes. It was a great apt, very wheelchair friendly, big and an amazing balcony, perfect for us. The apt block was a little complicated to work out at first (ie getting from carpark to apt / reception / swimming pool); but once we got the hang of it then it was very wheelchair friendly (apart from a little walk outside but really not a big issue). The pool was huge and an enormous Jacuzzi where everyone hung out. The pool was a bit cold for just hanging about in but the Jacuzzi was perfect. You could walk into town from the apt block, but we tended to drive (and go to the bigger part of town which you did need to drive to). The ski in ski out worked perfectly as we just could wheel the chair out the front door and Mia could be picked up in her sit-ski a few metres away and then we could store the wheelchair there, in the reception. Eating Out:  We only ate out once at a traditional restaurant at the end of town (now can't remember the name). It was v atmospheric and although not totally wheelchair friendly we got there in the end and the staff were all very good at making it work. It was a really fun evening. On the mountain there was one place we stopped for hot chocs which was great and all of us could sit together outside. Other Activities Accessible:  Though we didn't get to do it there was a great little bowling alley and ski skating rink which was all wheelchair friendly and looked like it would have been a fun night out.... we ended up having such a fun time in the lovely apt we didn't really go out!!!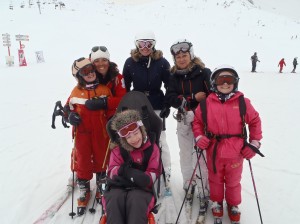 Mia surrounded by her fans including Catherine Cosby from Ski 2 Freedom The story continues!  Another disabled ski trip to Belle Plange. In March 2014 Mia and ESF Belle Plagne's adaptive ski instructor Ludivine were once again reunited on the ski slopes.   This time, as her sisters have become pretty proficient skiers, and as Catherine, Ski 2 Freedom's Director found when she joined them, the whole family can be found whizzing down the slopes with Mia very much leading the way being guided in her Tessier dual-ski pilot.  Once again Mia's mother is being given instruction on how to pilot the sit-ski and will be doing a full course for this in December 2014 so that the family will gain further independence on the slopes. *"Thank you so much Ski 2 Freedom for organising such a great great holiday - the Carlina Hotel wheelchair accessible apartment worked brilliantly and was suitably luxy for the family!!! It couldn't have been easier getting Mia out skiing and the fact that she could get everywhere around the hotel on her own (she got the croissants every morning !) was a joy for all. Also having a good lunch spot on our doorstep and bar / good sledging slope there for the evening was perfect as everyone happy to come to us. It really was the best holiday - thank you*. » Katie Mountain Beds again helped with booking the accommodation and ESF Belle Plagne provided both the disabled ski activity and ski school lessons.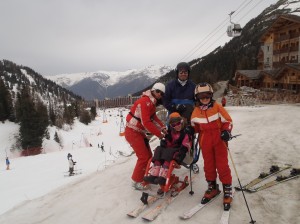 Mia outside the Carlina Hotel Belle Plagne setting of on a family ski with her guid Ludivine from ESF Belle Plagne Ski 2 Freedom would just like to add that this story of a family's determination to have a totally inclusive and accessible ski holiday with their daughter, who has cerebral palsy, but who also plays such an active part of the family is why we do what we can to encourage and promote the therapeutic benefits of skiing with a disability. As Catherine Cosby comments: *"each time I receive feedback and see the photos it is an inspiration but when I also get the chance to ski with the family like Mia's who have overcome so much adversity and apprehension about even taking the risk of organizing such a ski holiday, it is not only extremely emotional but one of the most rewarding and humbling experiences. *For those who already know the mountains and enjoyment of skiing it is difficult sometimes to understand how much is required for someone with a disability or special need to take a ski holiday. But when one hears the laughter, the shrieks of joy, the smiles on the faces then can one really appreciate that more disabled people should be able to benefit.  I can't wait for Easter 2015 when Mia and her family will once again be found whizzing around the snowy pistes of Belle Plagne and the Paradiski!! Note:  Disabled skiing in the Paradiski is open to anyone with a physical disability, learning disability or difficulty, blind and visually impaired, amputee skiers the list is endless and all conditions can be accommodated in many of the ESF and Independent ski schools such as Oxygene in La Plagne – for more information on any of the above of disabled skiing in La Plagne please contact catherine.cosby@ski2freedom.com